The SE Glacier Route of Mt. Ritter
---
In September of 2002 I ran into Bruno Geiger on Mt. Baldy. Unfortunately, we were attending a memorial hike for Matthew Richardson, William Stampfl and Steve Erskine. I mentioned to Bruno how much I had enjoyed his Canyon Explorers Club trip to Joe Devel Peak and Mt. Pickering in August of 2000, and that I was disappointed that there had not been a CEC trip to the Sierra recently. "Well, why don't you lead one?"
Me and my big mouth.
Bruno got me fair and square. After the hike, we elaborated further over a beer. Bruno mentioned that he had already climbed Ritter. "Why would you want to climb it again?" "I've had sex before, but that doesn't mean I don't want to have it again!" It is hard to argue with logic like that!
This resulted in nine CECers rendezvousing at Agnew Meadows, on August 15, 2003. They were Bruno Geiger, our climbing leader, Neal Bender, Mitchell Levitz, James McDermott, Richard Whitcomb, Mary Jo Dungfelder, Gary Schenk, and the rest.
The remainder of this story is best told by Mary Jo.
R.J.Secor says in his introduction of our beloved Bible -- The High Sierra Peaks, Passes, and Trails -- "How can I be objective while discussing the mountains that I love?" This is probably true of every mountaineer that has spent an ounce of time in the Sierras. Nine of us started out from Agnew Meadows near Mammoth Lakes, Calif. Seven of us would summit Mt. Ritter: six strong mountaineering men and one hardy gal.
We shouldered our packs about 8:30 AM Friday, August 15, after a bivouac by our cars Thursday night.
---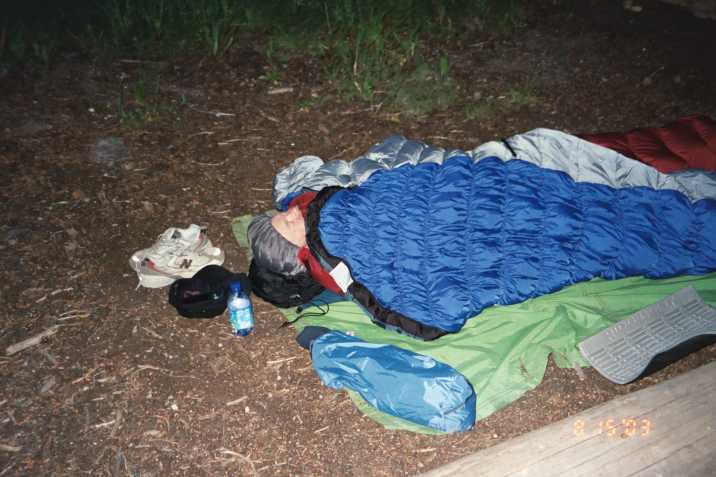 ---
The trail from Agnew Meadows to Lake Ediza was gentle as we ascended about 2500 feet. Jeffrey and Lodgepole pine shaded our walk.
---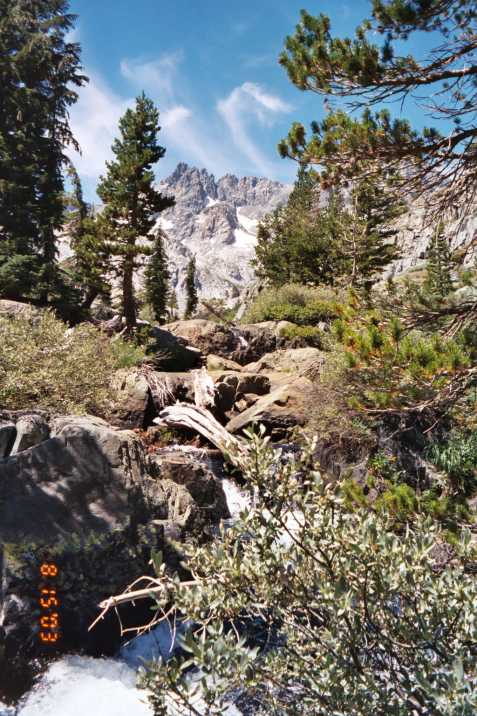 ---
We hiked along at a reasonable pace, taking ample breaks to make sure everyone was comfortable. Our group was as eclectic as our packs. We had a "GO LITE" afficionado and at the opposite extreme one that looked as though he was carrying the world on his shoulders.
---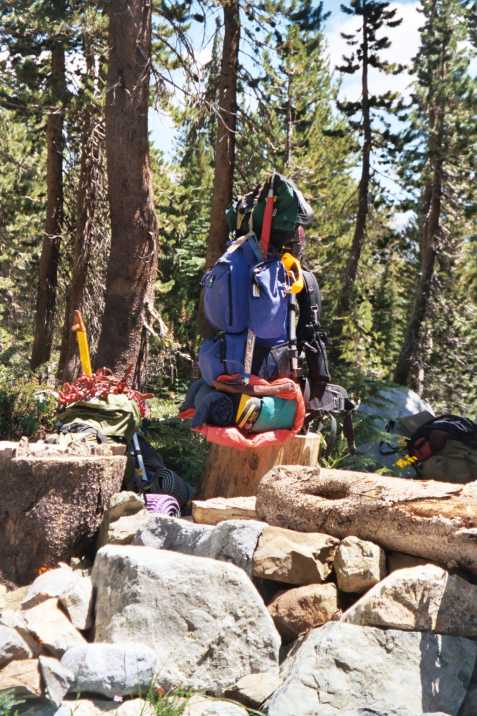 ---
Two from the group were from Arizona; all others were from the Los Angeles area. We had an artist, an antique dealer, a surveyor, a retired mechanic, a couple of engineers and, god forbid, a woman.

Soon our stroll rounded the azure blue Shadow Lake. We walked along, criss crossing cascading, gushing streams as we ascended.
---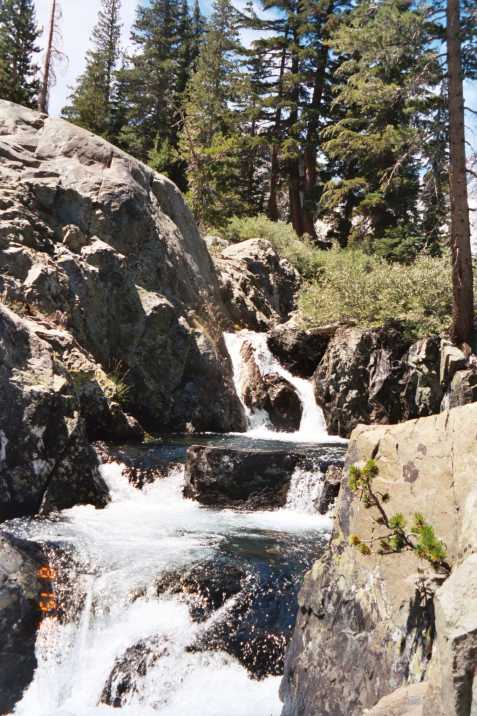 ---
The trees gave way to boulder covered meadows. Only the hardiest of flowers were left from the summer sun. We made our way to an unnamed lake west of Lake Ediza, just below Mt. Ritter's SE Glacier.
---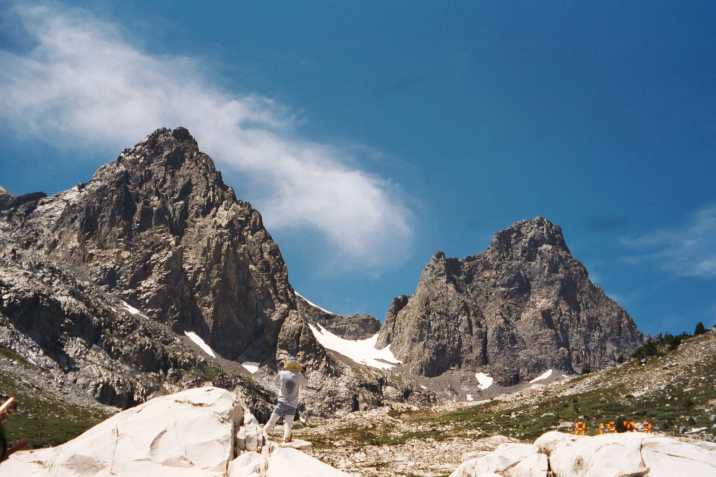 ---
The elevation was just over 10,000 feet. We ascended above Ediza about a mile and 1000 feet to lessen our challenge on summit day. Our plan was to follow the standard (class 3) SE Glacier route.
---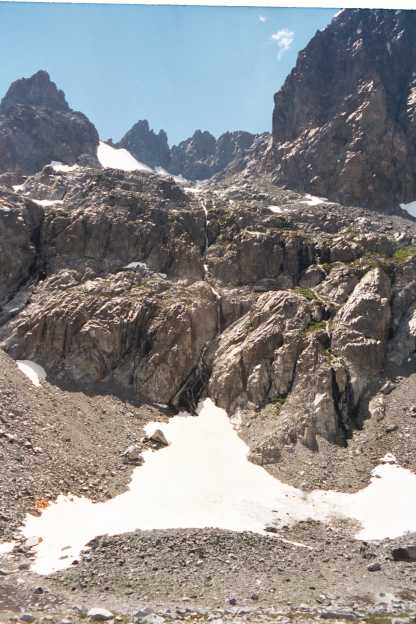 ---
We arrived early enough to pick out perfect, although rocky camp sites. Everyone dispersed, taking acre-sized plots for our individual tents, and providing much solitude in our panoramic Sierra mountains-cape. Our dinner was no less tasty than at a five-star restaurant. Uncle Ben's wild rice with mustard sardines never tasted so good. Our view from basecamp included streaming ribbons of water cascading down from the glacier. The stars began to appear, including a lucky shooting star for wish making. The moon was not quite full but left an eerie luminous light shining on the mighty mountain, exaggerating her bulk and strength and intimidating the tiny hikers who would attempt to conquer her the next day.

The glacier's snow cover had melted away. However the climb would still require crampons and ice axes briefly. Our climbing leader, Bruno, led us confidently up the correct chute to a pile of rough talus, scree and boulder fields.
---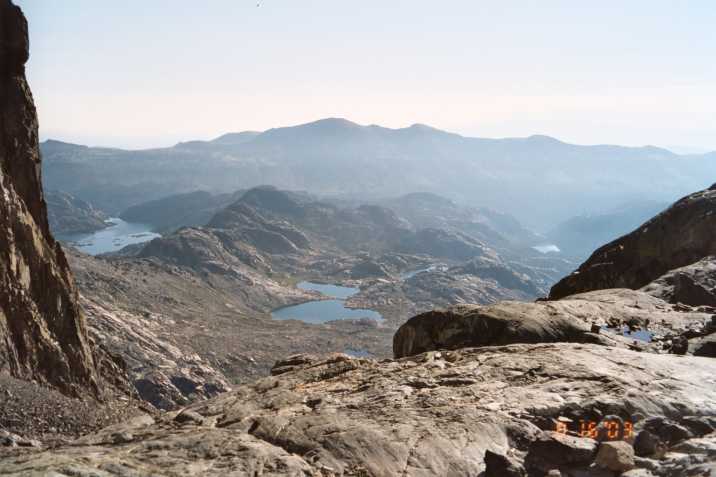 Looking from the route back down to Nydiver Lakes
---
Negotiating the talus blocks and steep slabs was challenging, but inch by inch it was a cinch.
---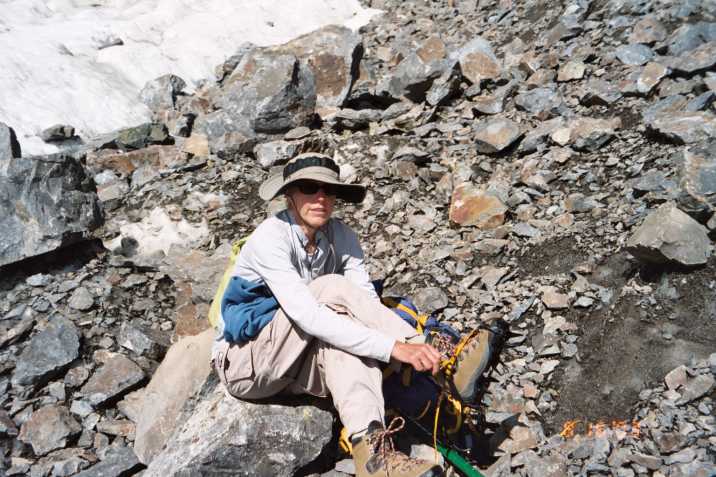 Mary Jo gets ready for the glacier.
---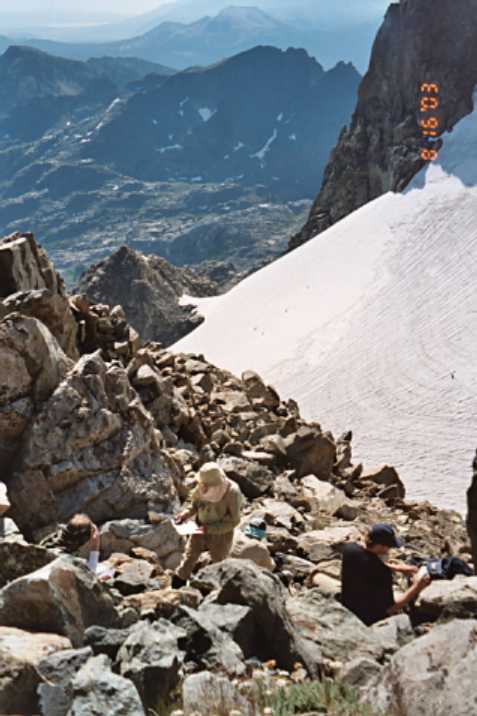 Bruno plots our course.
---
Each obstacle was overcome. Five hours up and then an hour on the summit basking in our accomplishment and re-charging our batteries for the descent.
---
The summit party.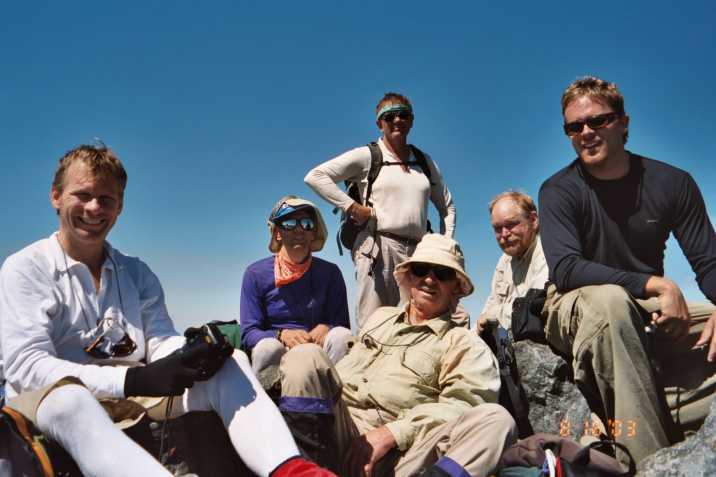 Neal Bender, Mitchell Levitz, Richard Whitcomb, Bruno Geiger, Gary Schenk, James McDermott
Missing is the photographer, Mary Jo Dungfelder.
---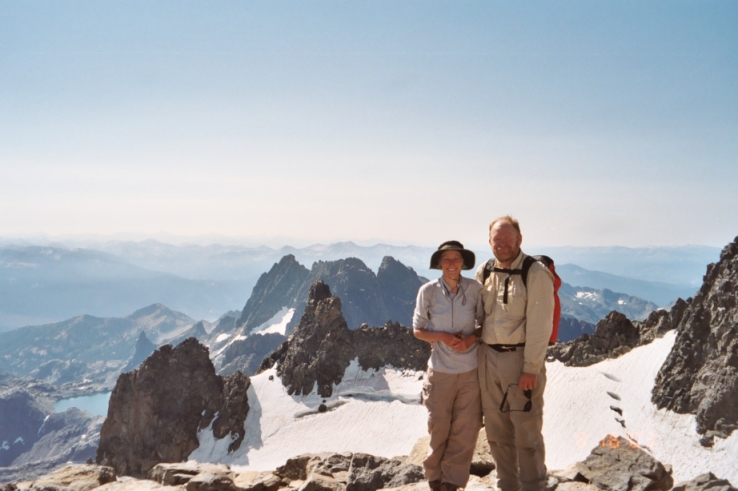 ---
On the descent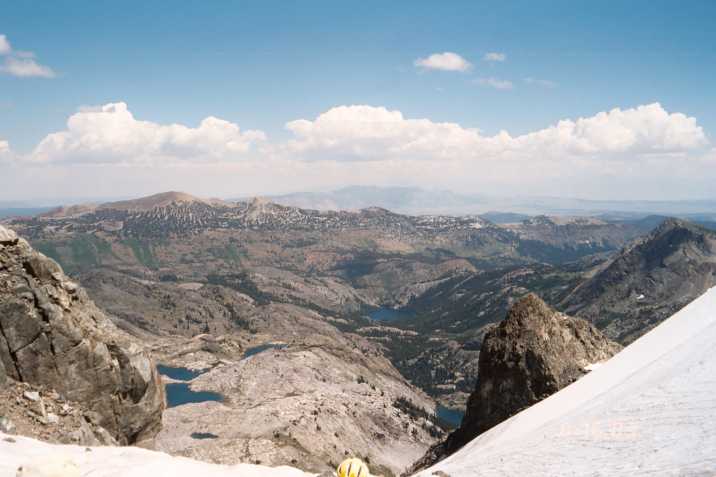 Lake Ediza and Shadow Lake from the glacier.
---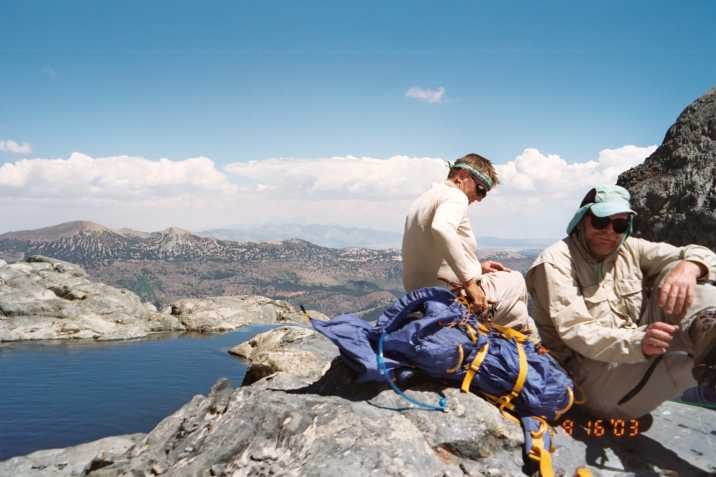 Richard and Gary de-cramponing on the descent
---
We managed to abbreviate the descent with a short glissade. My muscles and feet were beginning to speak. They had had enough for one day. We stepped gingerly on the loose rock, avoiding hesitation in fear of losing one's balance. The key for me was to keep moving, eyeing the next step in advance. Our total time including R & R on the summit was 10 hours.

Back at camp, dinner was no less tasty than the night before, boxed alfredo and noodles with trout and hot choclate.

Our hike out the next day had a driven feel to it. The trail was a freeway with many hikers coming in to enjoy their own adventures. Thoughts of beer, food and a shower have an enticing appeal after a couple of perfect backpacking days. But once clean and fed, I'm ready to go again. So...what about next year's CEC Sierra adventure?
---