Mt. Humphreys Southwest Slope
---
The Players
---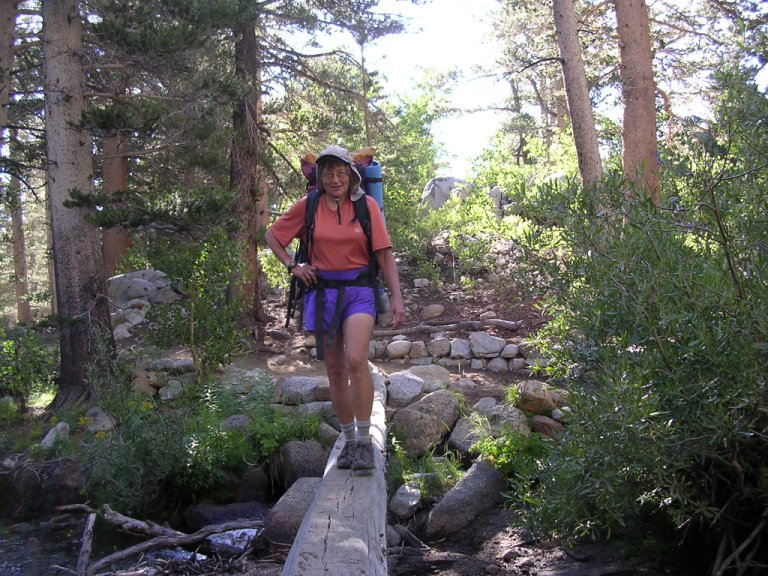 Judy Rittenhouse
---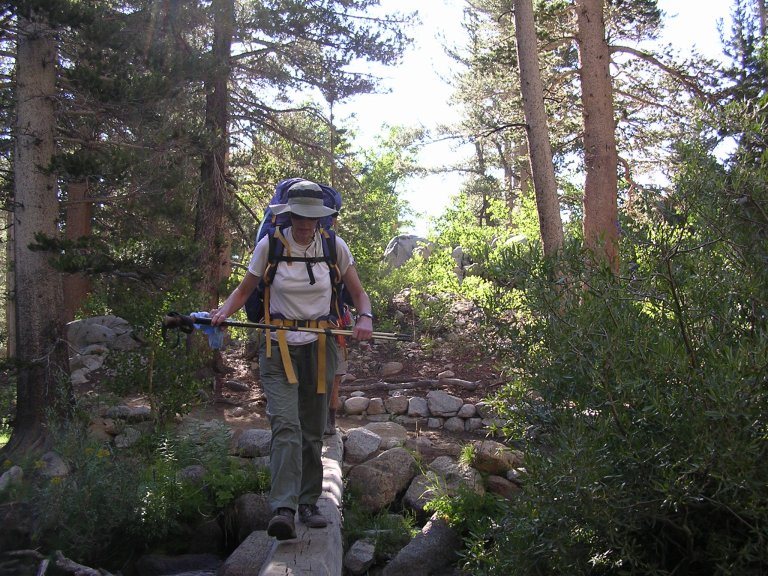 Mary Jo Dungfelder
---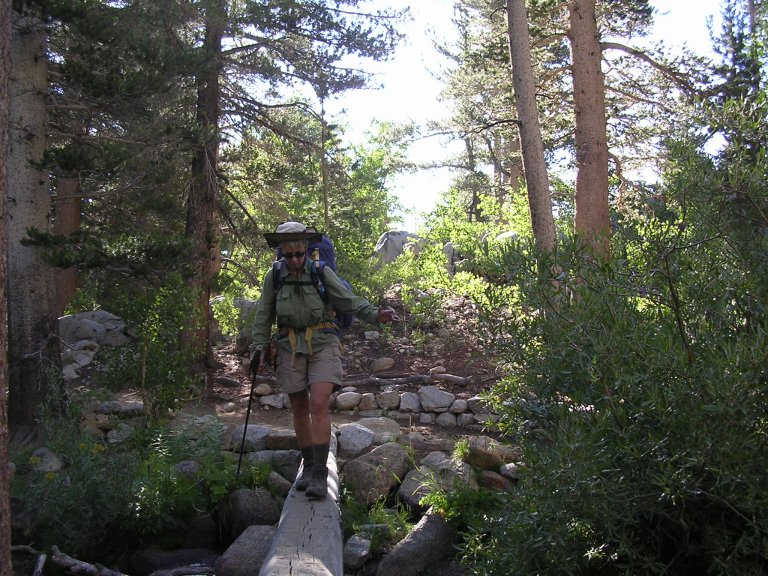 Patty Rambert
---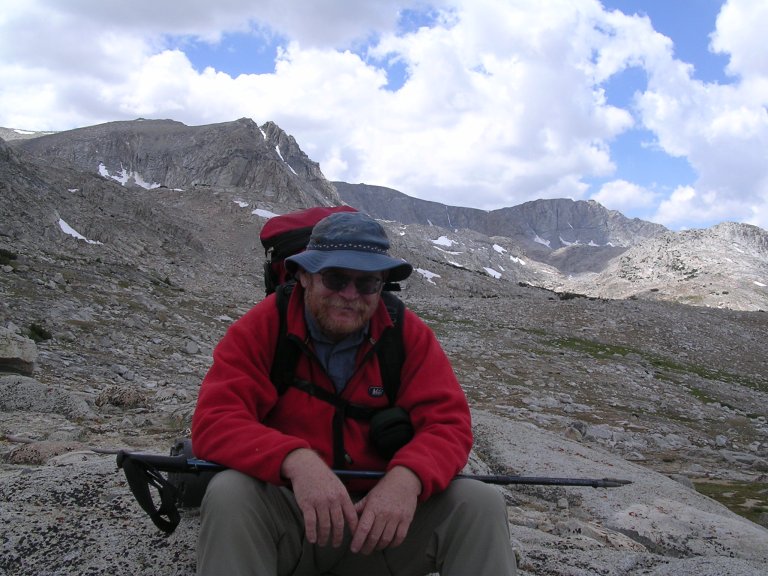 Gary Schenk
---
Mt. Humphreys is the dominant peak in its region. For a couple of years now we had seen it on the horizon. We saw it at breakfast at the Western Kitchen in Bishop. We had seen it from Four Gables, Pilot Knob, Merriam Peak, Royce Peak, Julius Caesar, Mt. Emerson and on and on.
The easiest route to the top is low fifth class. Its East Arete is in Peter Croft's book The Good, the Great, and the Awesome.
Our goal was a little more modest: the Southwest Slope and Northwest face. Mary Jo and I arrived in Bishop to rendezvous with Patty Friday the 13th, August 2004. Much to our pleasure, we discovered that Patty had somehow talked Judy Rittenhouse into coming along, even though she had been up Humphreys several times before. Judy's alpine experience was very welcome on this trip.
Friday night was spent weighing packs, Judy and Patty flirting with 20 pounds, Mary Jo and I hitting over 30 pounds. Ugh!
The weatherman had been forecasting afternoon thunderstorms for Saturday. The latest report had moved that up to include Sunday, our projected summit day. That was problematic. We decided to hike in, even if it meant spending lots of tent time. Maybe we'd get lucky and catch a break with the weather.
We all met Saturday morning at the North Lake backpacker parking lot. After the usual shuttle maneuver, we were off. Our goal was the highest unnamed tarn at the base of Humphreys, just above Marmot Lake. We made steady progress, and made Marmot Lake in time for a little afternoon activity.
---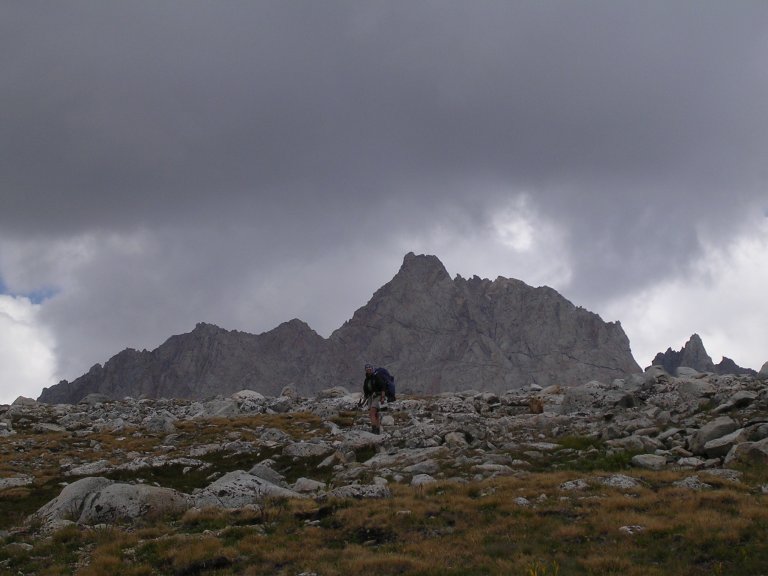 Patty and Saturday's storm frame Mt. Humphreys
---
We spent some time in a natural stone lean-to waiting out the rain, then proceeded to our campsite. Over dinner we formulated a plan: we'd leave camp at 6 AM in order to summit before the afternoon storm. We spent the rest of the evening watching the storm move on to dampen other spirits.
---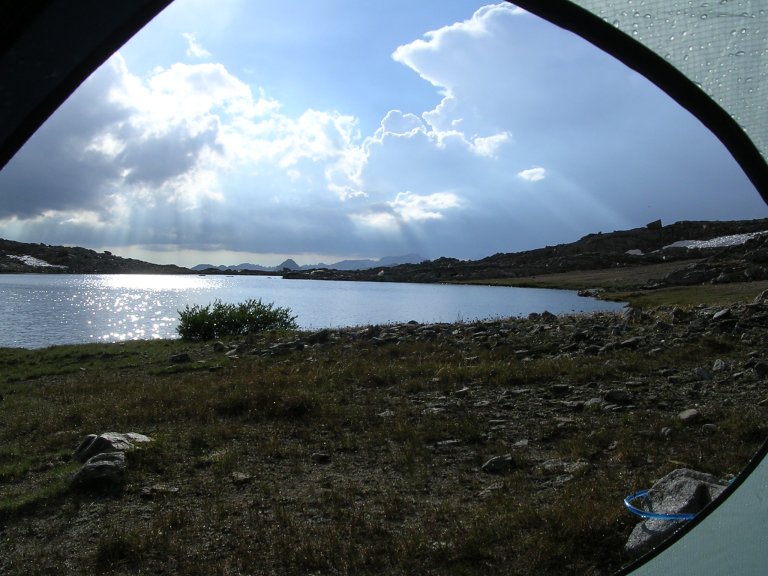 ---
We arose the next morning, leaving nice and early. We followed Judy's suggestion and hiked up to a prominent triangular shaped boulder on the scree slope above camp. From there we climbed obvious chutes and ramps to the notch northwest of the summit. It had taken us only two hours to reach this point. We briefly considered the clouds to the west but felt we had plenty of time before the afternoon storm. We ignored the view eastward.
---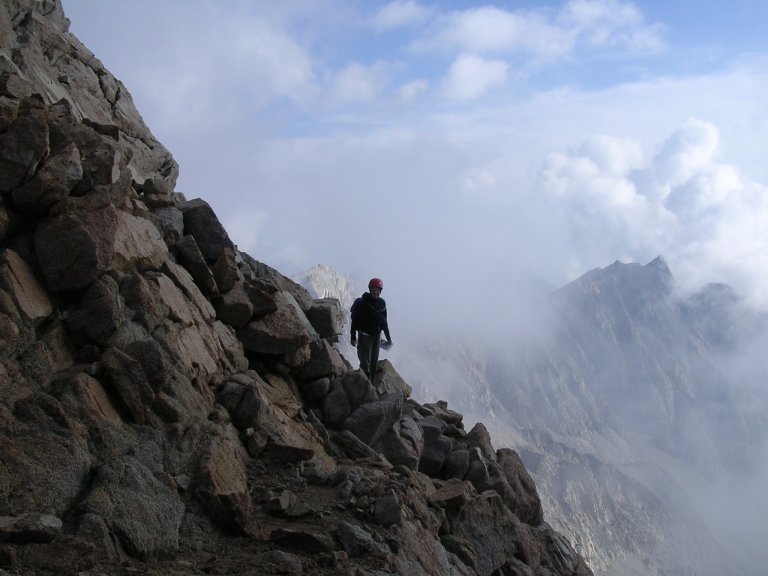 Mary Jo at the Northwest Notch
---
We donned our rock shoes and commenced up the rock. The first bit was fun third class climbing on beautiful golden rock. The slight chill in the air helped make for fantastic friction. Shortly we reached the spot where the first technical pitch began. Mary Jo had no time for ropes, and free soloed this pitch. Patty and I followed Judy to the second pitch, an easy corner followed by one delicate friction move.

Mary Jo and I scrambled to the summit, reaching it at 10:40 AM.
---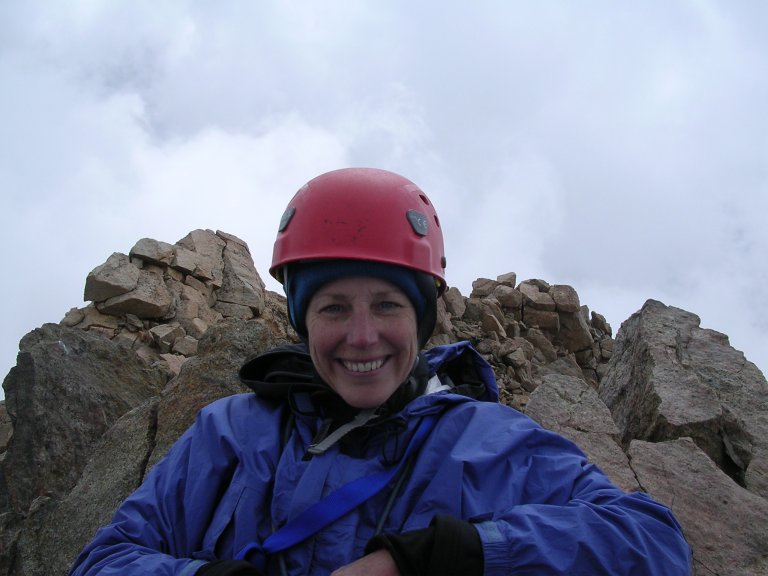 Mary Jo enjoys her peak experience
---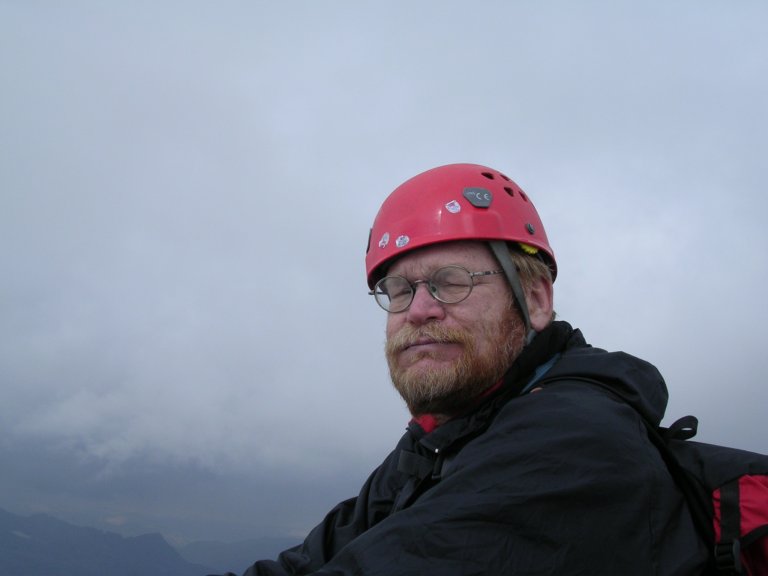 Gary is not so sure
---
Meanwhile, Judy belays Patty up the final moves.
---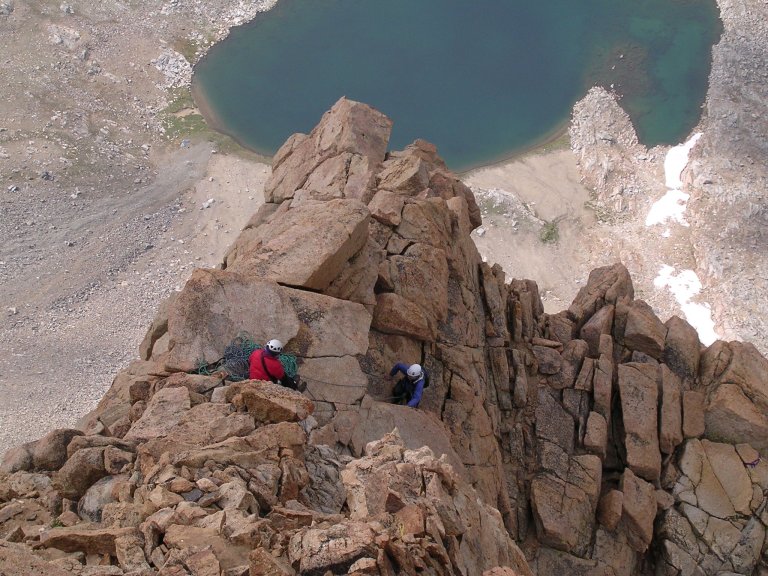 ---
Instantly, as this picture was taken, we felt the first hail. Mary Jo and I fled in terror even as Patty and Judy scrambled to the top. They did not tarry long. I had just placed Mary Jo on belay and she was already downclimbing to the rap anchors. The hail was falling in earnest now, covering the rock with a snow and ice mixture at an unbelievable pace. Our easy downclimb was no more. Once Mary Jo was anchored, Judy had us set up a rappel. We rapped down to Mary Jo, and then began the long process of getting off the mountain. It took a total of four raps to get down. It was a very cold wait at the stations as well.

Judy did a great job, being first at each rappel. What seemed an eternity soon had us back down at the notch. Here the storm abated.
---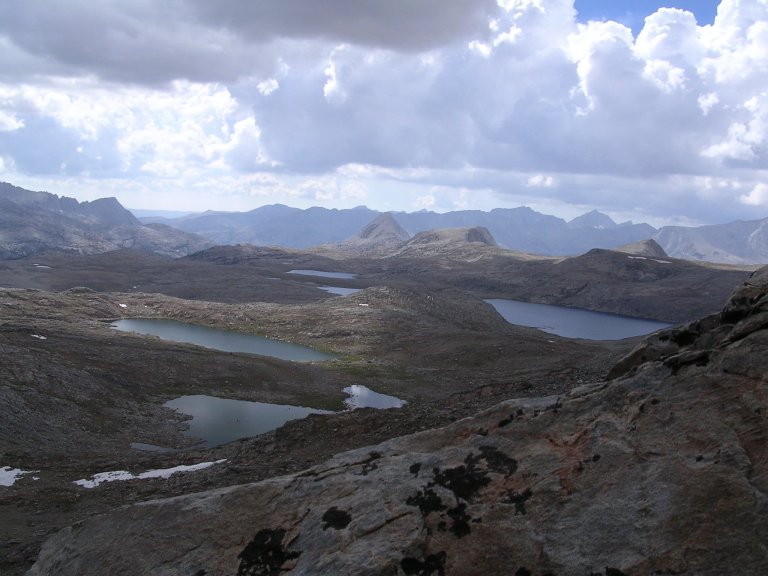 ---
We had something to eat and drink, and headed to camp, wondering what all the fuss had been about.
---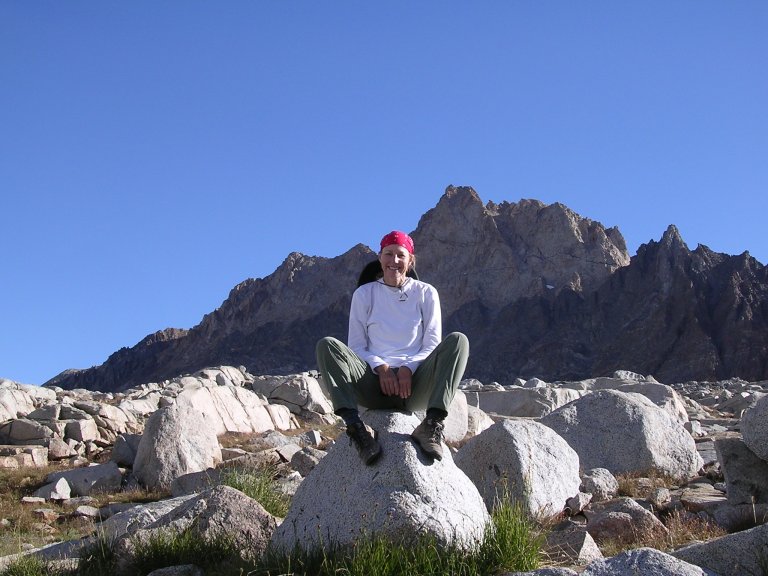 ---
Our plan had worked perfectly. We did make the summit and back to camp before the afternoon storm. It was that MORNING storm...