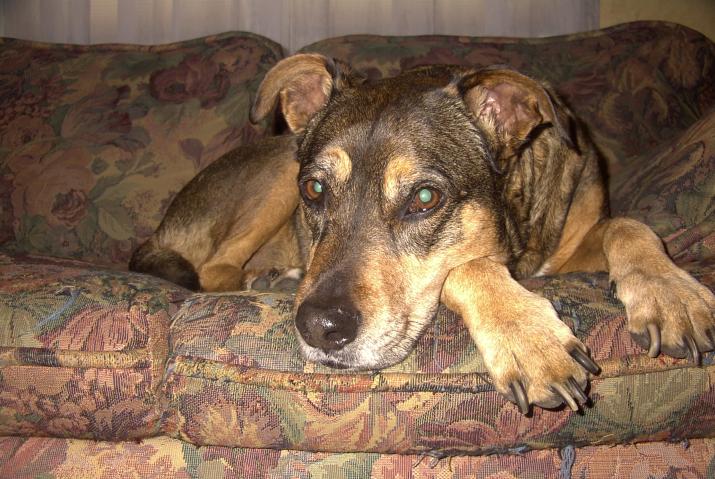 Three Dog Night
By Lacey Dungfelder
Most of my days are spent lounging on the couch, peeking out the front window, waiting for the mail lady, or digging through the hamper for dirty socks, especially those liner socks Top Dog wears sometimes. I like to bury them either behind a cushion in the house or occasionally in the backyard. Another favorite pastime is cat-napping on the couch with one ear propped up for hearing. This way I can patiently wait for Top Dog to return from wherever she goes each day. However, the few days leading up to Valentine's weekend were especially disheartening. She didn't come home in the evening, it grew dark each night. The teenage boy that lives here too, fed me and even took me around the block once or twice. We spent the evenings sitting on the couch together watching Elimidate, MTV, and the OC. Finally, Top Dog returned. She announced we were going on a walk. I tilted my head and she said, "a long walk, a camp-out." She said it with such enthusiasm that I knew something big was brewing. She began gathering the things that smell good. She dug her big boots out of her closet, two sticks she seems to need when we go for a walk in the woods. She stuffed things in something she was going to carry on her back. Big Dog came over. He had his sticks and a pack too. He asked me where my leash was. Again, I tilted my head. In our language dance I jumped around in a circle, walked over to the drawer and encouraged him to open it, which produced my leash.
Big Dog, Top Dog and me, Lacey, walked out the front door in Sierra Madre, marched up Lima St. to my regular haunt, Bailey Canyon Park. As soon as we entered the park I was set free from my leash. Top Dog always makes me wear it in the neighborhood but once we entered the park I was released. There is such a sense of freedom in the hills. As we began our journey in the Front ranges of the San Gabriel Mountains I immediately began darting about reaquainting myself with all the wonderful refreshing scents. I filled my snout with the smell of pine needles, cowboy cologne, white sage, bay leaves and all the odors of the animals that walked the same path before.
Top Dog and Big Dog seemed to plod along in a steady rhythm. I was just happy to be outside. As we hiked our regular trail I didn't think we were doing anything other than our usual. Top Dog took the lead. Quite a distance grew between us. I had to constantly check between them, to make sure I knew which way Top Dog was going and Big Dog was coming. It was pretty tiring going back and forth keeping us all together. We proceeded up the Bailey Canyon trail passing a saddle at the mile mark followed by an old foundation for mile 2. Jones Peak was to be our first peak out of 4 we would hit on this trip. I've gone camping before with Big Dog and Top Dog but that involved a long car ride before anything really fun happened. I'd shake and whine with excitement for hours before we'd get out in the great outdoors. This trip was something new and exciting. Walking out the front door, not driving anywhere, right into the front ranges of my beloved Mountains.
From Jones Peak saddle we ascended a ridge line. Los Angeles to the south and Mt. Wilson in view to the North. Of course my nose was to the ground. We all stopped again when we reached Hasting's Peak. Top Dog and Big Dog signed a notebook stuffed in a can they produced from under some rocks. I think they added my name too. Off we went again over the rolling ridgeline, I was having so much fun. We tromped through wild rye grass, russet seedheads of California buckwheat, green and yellow grasses, poodledog and thorny bushes. After a steep jaunt up a very rocky hillside we reached an old dirt road. Top Dog called it the Mt. Wilson toll road. Apparently it use to cost something to walk on it. There was some historical significance however, I was much more interested in peering over the steep edges and chasing the occasional lizard that darted away from me. We walked up the road for almost a mile stepping over boulders that had fallen from the mountainside onto the road. A few bicyclist dressed in brightly colored uniforms, blue, black, yellow and red came racing by. That got my blood moving; I love the chase. Top Dog set me straight though; I wasn't allowed to go after them.
We settled ourselves beneath a shady oak tree for a big lunch break. An entire herd of hikers came walking down toward us. Top Dog and Big Dog knew some of them. They said they were a WTC group (whatever that is) doing a conditioning hike to Mt. Wilson and back. I got the impression that was where we were headed.
A couple of miles later we stepped out onto asphalt surrounded by towering antennas. We crossed the pavement to a water spigot. I was relieved to find out there was water. There had not been any stream crossings since we left Sierra Madre on this particular route. After cameling-up we descended the next leg of our journey.
We began the Rattlesnake trail dropping north into the west Fork of the San Gabriel River. According to Big Dog our destination was West Fork campground. Top Dog's only response was "4 ½ miles to go?" The terrain changed as we descended deeper into the woods amongst more than 10 varieties of pine trees. There were Bigcone Spruce, Coulter pines, Incense cedar, Jeffrey pine, Ponderosa and more. Canyon Live Oaks, Manzanita, and Bigleaf Maples were also amongst the crowd. The air grew cooler, there were patches of snow and ice on the trail. Acorns rolled beneath my paws. Trees occasionally blocked our path. Deeper down in the canyon we trudged. The smells grew wilder. Deep rich fragrant orders filled my snout. Colorful lichen decorated the barren rocks and soft green moss grew on the north side of the large tree trunks. It felt good to descend we had climbed up for almost 6,000 feet. In my little dog brain I calculated it was time to go down.
Darkness was rolling in just as we walked into to camp. The camp was full of young boy scouts who were more than happy to give me a pat on the head. Although, I really wanted a snack instead. Top Dog produced a really cool den from the pack she had been carrying all day. She put in a couple of poles, threw in some really comfy cushions and I was in heaven. I curled up snug as a bug in a rug. Big Dog and Top Dog brewed tea and cooked their dinner sitting on the old foundation of the first ranger station in California. They eventually crawled into the den too. Big Dog tried to rearrange me. I had to growl at him since I was already comfortable. Eventually we all snuggled up in our cozy palace for a good nights rest. Big Dog and I got up once in the night to relieve ourselves and check out the sliver of moon and the beautiful starry night sky. We slept in a bit in the morning because we were all so cozy together. However, as sunrise broke through we got ready for a day hike we would surely like.
Our destination for the day was Barley Flats via the Silver Moccasin trail and up Short Cut Canyon, onto the Los Angeles Crest highway briefly and then a trek up a road to Barley Flats. The trail began just across the river from our camp it snaked from side to side criss-crossing the river floor. Lots of stepping stones for Big Dog and Top Dog. I enjoyed dipping my toes, the water was cold as ice but soothing to overworked pads. The trail ran flat for quite some time before emerging in an upward push out of the canyon. Once we ascended the trail high above the river bed I observed wild things moving about far below in the chaparral. I couldn't tell what was moving about in the bushes. Something big. I had seen deer print earlier as well as hearing a dog like bark that could have been a bear. I opted to stay close to Big Dog. On this day Top Dog was dragging and we had to wait for her on numerous occasions. However we all continued to trudge forward and upward eventually topping out on to the Los Angeles Crest highway. I had to be leashed again. The motorcyclist speeding by were begging me to chase them. I think Top Dog was afraid I might catch one.
We eventually reached a side road with several mailboxes one marked Barley Flats. We hiked up the road for several miles. In the shade the road was covered in snow and ice. In the sunlight there were big mud-holes for squishing through toes. We eventually made our way to a water-tank. Big Dog followed some instructions from a HPS peak climbing guide that led us right over to a pile of rocks where Big Dog retrieved another can buried beneath the pile. He's pretty good at digging those cans up. Again upon opening the can a small notebook was produced with many names recorded in it. Big Dog added our names and replaced the book in the can and buried it for other dogs to dig up. We had a snack and then prepared ourselves for the journey back to camp.
Big Dog led the way. Picking up a faint trail he guided us back to Red Box, just below Mt. Wilson. This trail was full of low shrubbery, Spanish broom, pokey yuccas and thousands of blood sucking ticks looking for a soft puppy to leap onto. At least a dozen or more managed to climb aboard. As darkness was soon to fall we opted for traveling on a fire road back to camp. All three of us were quite tired. The road was an easy pleasant walk. Every now and again streams of water crossed the road and cascaded over the other side. I was fascinated by this and didn't know quite what to make of the beautiful little waterfalls, I simply barked with delight.
We arrived back at camp just in time for headlamps. The boy scouts had departed. West fork campground was our own private Idaho. I made a bee line to our den. A 16 mile day had an old dog like me beat . The den was cozy for the second night.
The next day I began having flashbacks and pleasant memories of my couch awaiting me in Sierra Madre. As daylight hit the sky Big Dog and Top Dog packed up all our gear. We headed out. The birds chirped and squawked high in the surrounding trees. The chipmunks darted about. Resinous smells of the Jeffrey pines would linger in my memory for a very long time. We topped out onto the Mt.Wilson asphalt again and began our descent toward Sierra Madre. This time traveling down the Little Santa Anita Canyon trail back home.
What a novel idea for a long weekend, no driving, no traffic to contend with. Just a couple of dogs out for a grand jaunt. Top Dog and Big Dog celebrated with champagne I climbed gingerly up onto my favorite couch and will wait patiently for the next adventure.